5 years ago
Silent Disco helps Beth find her voice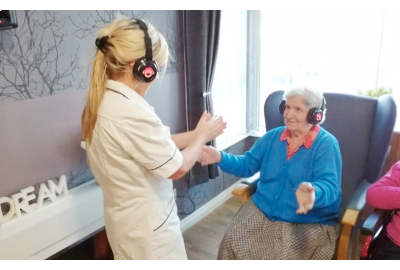 Silent Discos are quickly becoming the must-have activity in care homes, and not just because they're fun. They're changing lives.
Over the past year Silent Disco in Care homes have become more and more prevalent. Just look here for one of many examples.
Music memory has become a vital tool in working with the elderly and using our headphones with the young-at-heart is having fantastic results. 'Lenny, the dementia friendly barber' (@dementiabarber on Twitter) has been receiving worldwide acclaim for his work using music with his customers.
Beth is a resident at The Sandringham Care Home in Portadown and hasn't spoken for 6 years. Sam Bright, the home's associate therapist, gave her a pair of our headphones, played "Somewhere Over The Rainbow" and this happened.
Yes, it's OK to be a little teary.
Find out how we can help you, get in contact sales@silentdiscoking.com or call 0207 0603 653