5 years ago
P.W.A - Pigs With Altitude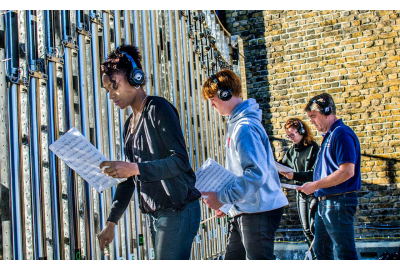 It's not every day you see pigs fly - unless you go to Rochester Independent College.
Last month they got in contact with us to tell us about musical gates, a symphony orchestra and steel flying pigs. We're sure any other company would think it was a prank call but at Silent Disco King we're always encouraged to keep an open mind.
After checking this out online we knew it wasn't some sort of hoax and pressed to find out more about why they needed headphones.
The musical gate was the brainchild and creation of Artist and engineer Henry Dagg famous for creating Swedish artist Bjork's 'sharpsichord' which she toured with back in the 90's.
He created the gates and railings (which feature quirky steel sun-glass adorned flying pigs) in a way that forms an instrument extending to over 6 octaves with an array of modules mounted within the structure.
The Gate at Rochester was having an official opening party and the College had organised the local symphony orchestra to play it. Due to the nature and bizarre design of the gate, Rochester orchestra commissioned a special musical composition called 'Pigs with Altitude' for the opening and needed a way of delivering the audio to the guests attending the launch.
The silent disco system was the perfect solution!
It helped deliver the audio that was mixed down and transmitted to the happy guests.
Henry Dagg's Musical Gates Official Opening Performance from Richard Fleury on Vimeo.